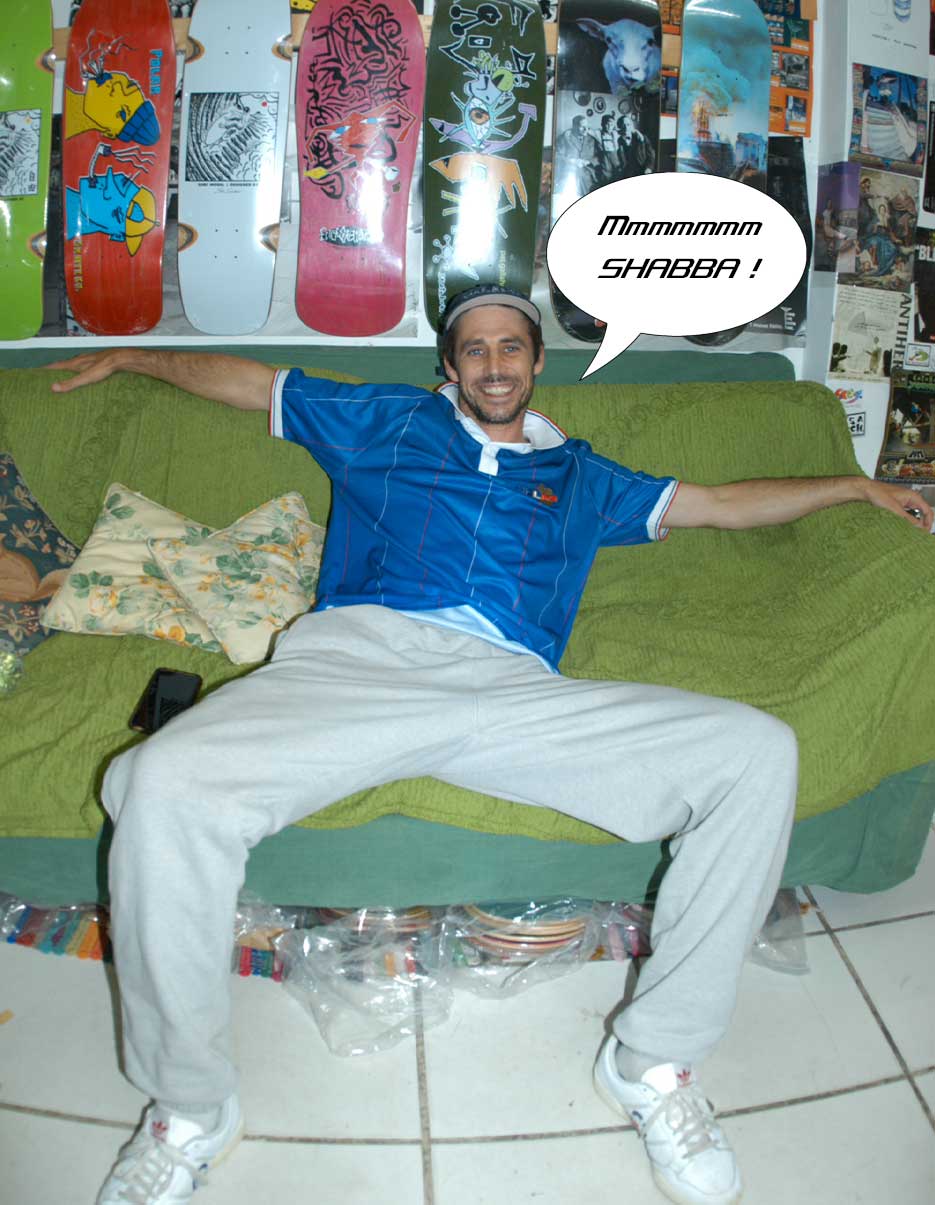 Chewy Cannon, is a UK skateboarding legend. Having skated for classic UK brand Blueprint for years he has now reached his final destination at
Palace Skateboards
. Palace is the perfect fit for Chewy as he is free to put Sizzla on his pro board if he chooses. Chewy is also the co-founder of Jet Lag Brothers, a brand based around his experience of constantly traveling around the world for skateboarding over the last decade.
Chewy Cannon
is a great friend of
Baddest Skate-shop
, in-fact, he has sponsored the
shop
, by buying the sofa so many have sat on whilst their new 
Palace deck
was gripped and set up. We sat down on said sofa for a catch up. 
What are you smoking on right now?
Bunning upon the Skywalker, flava country. Mmmmmmm SHABBA !
What's your favourite song at the minute?
Fav song of the min is probably Baltimore by Nina Simone, it's been stuck in my head for last month or so. Such a queen 👑 🙌
Where does the name Chewy come from?
So Chewy comes from the name chewy Louie, which was on
Some old chocolate bar advert on tv, it had a character in it called Chewy Louie, my mate's dads called me it one day at football and it just stuck. I was probably about 10.
I forget it's not my real name sometimes 💚
Any wild Southbank stories?
Southbank has so many stories I can't even do it justice, u kinda gotta go there and get ya own.
Tea or Coffee!?
Tea is life ! I bloody love it 😊
How did you come up with Jetlag Brothers? And how is it going?
JLB was something that just came about from me and the lads travelling all the time, felt like we had JETLAG all the time.
The actual story I remember was me n Günes in Hollywood, we had arrived later then everyone else so we was lagged, waking up at 4am and going skating Hollywood boulevard at 5 hahaha..... we was coming knocking on the filmers door (franky) every hour from 6 and one time he said "OH NO ITS THE JET LAG BROTHERS AGAIN" and that's when we starting calling ourselves jlbees.
It's going well considering me n Günes aren't really business men and are learning as we go.
Originally we really wanted to make bags for travel but found out it's pretty hard to sell bags, though we did make a few if ya fancy one.
Still got a vision to make some more cool bags in the future. One step at a time we just keep plugging away and Do some more cool trips.
Favourite trip you've been on recently?
Jamaica was the last place I been abroad but not for skating although I did see a couple of spots. I recommend everyone to go there if the can. Amazing 🤩
Skate trips haven't been for a long time unless England 🏴󠁧󠁢󠁥󠁮󠁧󠁿 so I'm gonna have to say Turkey, Istanbul 🇹🇷 was really cool, we didn't have the best weather but the spots were amazing and it was pretty cheap, good vibes and the locals were really friendly.
I would love to go back again ,because I feel like there was so many more cool spots and things to do there. Very cool city, where East meets West. 
Who's got the best style on Palace?
Best skate style is everyone.
Best lifestyle is Lucas
Best clothing style, not Charlie Young. Hahahahaa........maybe Lucien takes that one there. 
Best freestyle, Shawn Powers.
Best hairstyles, Benny Fairfax
Cause he has a new one every week
But I also rate Austin's hair, even tho he's a filmer.
Favourite video part?
Fav video part is tough as fuck but I'll go wit Ricky O, Eastern Exposure 🙌 Underachievers. 
But there's literally a 100 I could say that are all up there, that whole video really influenced me a lot coming up tho, and that part is heavy.

Who influenced you most as a kid skating?
Playing Fields is still the best English skate vid. Before company's sponsored everything. Just an English scene vid, but all the skaters in it inspired me a lot.
Robbie Gangemi
Quim Cardonna
Bobby Pueblo
Karl Watson
Stevie Williams
Mike Maldanado, however it's spelt
Any London kids at the moment that you like?

I'm backing all the kids in London doing there thing and enjoying it , that's what I like to see when I'm out skating, people enjoying it, I feel like sometimes it's easy to forget, like the insta story has seriously got people stressing, don't get me wrong stress if you wanna but enjoy it when ya do hahahahaa ........



Gonz made me wear a crazy pair of expensive designer shoes wit spikes on once, think they was worth loads, he had me doing old school primo tricks in them for a movie he was making on a tiny lil flip out camera
Hahaha .......
Favourite pair of Adidas?

The first Busenits, haven't taken off since he made it. Hahahaa ...... 🙌
If the shoe fits ..........
If you could have a superpower what would it be?
Superpower would have to be teleport.
I'm backing fear and loathing in Las Vegas and Good Fellas. New ones ah shite.
I don't cook so good but I love bbqing, my girl 👧 s the best cook so I'm lazy.

Ass is tidy but I do love me some titties Hahahaa ......... u can nestle in to the titties so that's always nice.
Last thing you do before bed?
______________________________________________________________________________________________________________________________
I
f you haven't had the good sense to go back and watch all of Chewy's videos after reading this, we have left some links below to some of his hardest parts. Big up the Smileyest bunner out LLCC.
Collection 2019
Sale 70% Off
Title for image